Latest News Archive: 2009 - 2016
Children taking part in Leicestershire Schools Chorus event 'Young Voices'.
The Rotary Club presenting our Rotary Star awards for Citizenship
Children practising their steel pans for the school fair
May 9th 2016
Good luck year six with your SATS this week.
3rd May 2016
Y3 went to Calke Abbey today. Y4 are going tomorrow. Look on the Y3 and Y4 class pages to see pictures of this lovely trip.
22nd April 2016
Y1 went to Beaumanor Hall for their nature day trip today. Pictures will soon be up on the Y1 class section of the website.
20th April 2016
The children have the opportunity to name a police van which came into school today. All of the children had the opportunity to sit in the van and ask the Police questions.
23rd March 2016
The Year 4 & 5 children performed beautifully this afternoon at their Diosing concert. Thank you to all of the parents who came to support them. We clearly have some very gifted singers in our midst!
Looking forward to the Easter break, we hope that you all have a lovely holiday and come back feeling refreshed on Monday 11th April.
22nd March 2016
A group of our children had a great time today at the Tri-Golf competition. Everyone showed great enthusiasm and the whole group performed very well. Well done to all those children involved!
17th March 2016
We had a really good Sport Relief day today, ending with a whole school marathon.... or at least we think we covered 26 miles between all 350 of us!
Thank you to the Parents and children who helped with our Parents' and Friends' Association coffee morning this morning. Thank you to all the parents who came and joined us.
Friday January 29th
Children have had great fun on Science day today. Some have been making periscopes, others have been experimenting with dragon slime. Y3 and Y4 were working out how to keep the frozen 'caveman hands' they found from defrosting! Teachers will be putting photos on class pages soon.
Y2 have had great fun changing their classrooms into castles. Parents can come in and see the work they have done at 8.45 on 27 January.
Mrs Cripps and Mr Gibson's Leaving Assembly
Class Christmas Calendars are coming out soon, if you wish to buy a class calendar please see the office. They cost

£1.50

and have all the school holidays highlighted. 
Our Annual General Meeting, where Directors and Trustees report on the financial processes of the school is on Tuesday 1st December at 6.30 p.m. All parents welcome.
Nicky Morgan,the Secretary of State for Education and Google UK visited our school to see some year 6 children Code
Academic Year 2015 - 2016
All the information about events in school can be found on our 'newsletters' page. From time to time, I will write about in-school events here.
July 8th 2015
Year six did a lovely leavers' performance last night. As they said, they are CHAMPIONS!
July 6th
Children from years 4-6 took part in two events this Saturday: Town Sports and a steel pans extravaganza called Panjam. All the children did really well; their behaviour was very good, they competed or performed well and had a great time. Urvi Patel gained a Town medal in the throwing competition at Town Sports - well done, Urvi.
July 3rd
Today we welcome our new children - the ones who are joining us in Reception classes next year. They settled incredibly well - no one cried (well, no child, anyway. Not sure about the parents...)
Today is also the day when all of the children get to spend some time with next year's class teacher. Everyone is on their best behaviour!
July 1st
Reception children had a great day at Manor Farm today. Their behaviour was excellent, too.
Don't  forget Town Sports and Panjam on Saturday.
Thank you to all the parents who attended our parents' evening today.
2nd June
Our new website is up and running!
March 24th
The Y5/6 football team played a match against St Mary's after school today. It was a close fought, competitive match. From being down 2-0, we fought our way back and ended up the winners 4-3. Well done everyone.
February 13th 
Next week is half term week. Children return to school on Monday 23rd February.
February 3rd 
Some children from Y3, Y4 and Y5 took part in a Tri-Golf tournament at Charnwood College yesterday. They were great - very well behaved and competitive. The children looked really smart in their NEW sports gear, bought by the Parents' and Friends' Association.
February 2nd - February 6th 2015
Our year six children are on residential at Stanley Head Outdoor Education Centre this week. I will update their parents by text every day so you know how they are getting on.
Tuesday January 6th 2015
Happy New Year to all our pupils and parents. 
Friday December 14th 
Thank you to all our children for their lovely Christmas concerts this week. There are lots of things going on next week - please see the Friday newsletter for all the details.
Friday November 28th
Y34 classroom now has walls! The builders have put them in overnight. Y3, Y4 and Y6 classrooms are also now 'boxed in'.
Thursday November 27th
Children are busy rehearsing for their Christmas productions. Don't forget to order your tickets from the office.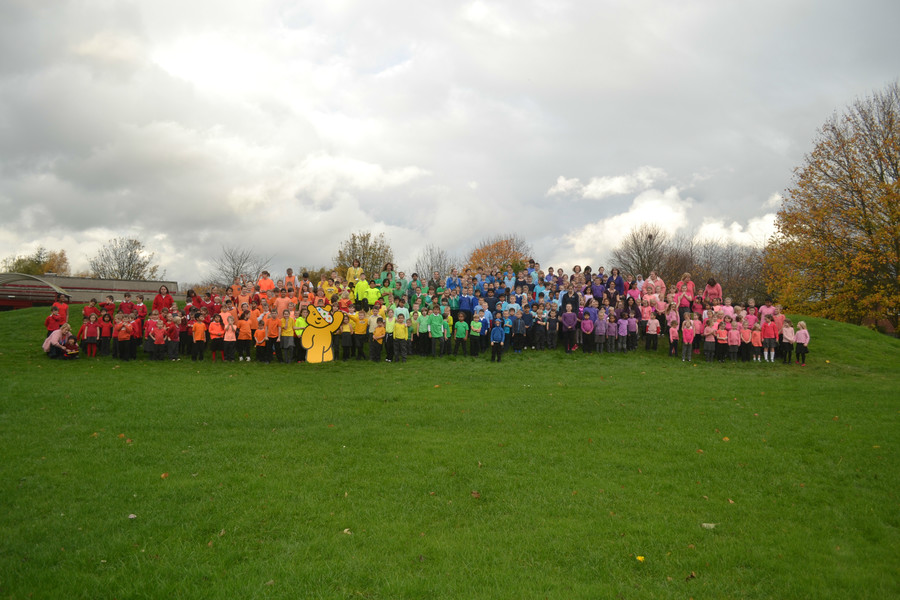 14th November
Today we made a human rainbow on the hill for Children in Need day.
12th November
The children were very sensible during their flu immunisations this week. We were really impressed with them.
7th November
Thank you so much to the PFA for lovely wet play games. I will post some pictures of them on the site when the  games are in use next week. The children are really excited and ready to play with the games.
Robert Bakewell children were on the television again this week, with Central News interviewing them about swimming. Well done to Y5 for their interviews.
16th October
It is half term next week. Children return to school on Monday October 27th.
Happy Diwali this week to all those who celebrate Diwali.
14th October
It's parents' evening tonight. Please come to the hall and a year six pupil will take you to the class at your appointment time.
12th September
We have had a lovely week. Year six went on a trip to the university and did some great engineering activities - I'll put some photos up next week. Our Reception children have settled really well, and we even managed 197 chip dinners today!
Remember, next week, Reception children are in full-time.
The new term:
I hope you all had a great summer. Children return to school on Thursday 28th August at 8.45 a.m. Children who are starting with us in Reception class are in school from 8.45 - 12.00 only at first.
Remember, all children in Reception, year one and year two are entitled to a FREE school dinner this year.
Friday 11th July
We have had a lovely end of term and have broken up today. Good luck to all our leavers; to year six, to Mrs Fletcher, Mr Clark, Ms Hoque and Mrs Bristowe.
Thank you especially to Mrs Fletcher, who has taught at the school for 37 years. She has taught many children who are now Robert Bakewell parents, and she even taught Mrs Authers as a child! We wish her the very best with her retirement.
Thank you to everyone who came to Town Sports on Saturday. Robert Bakewell School won the girls' throwing event - here's a picture of the winner.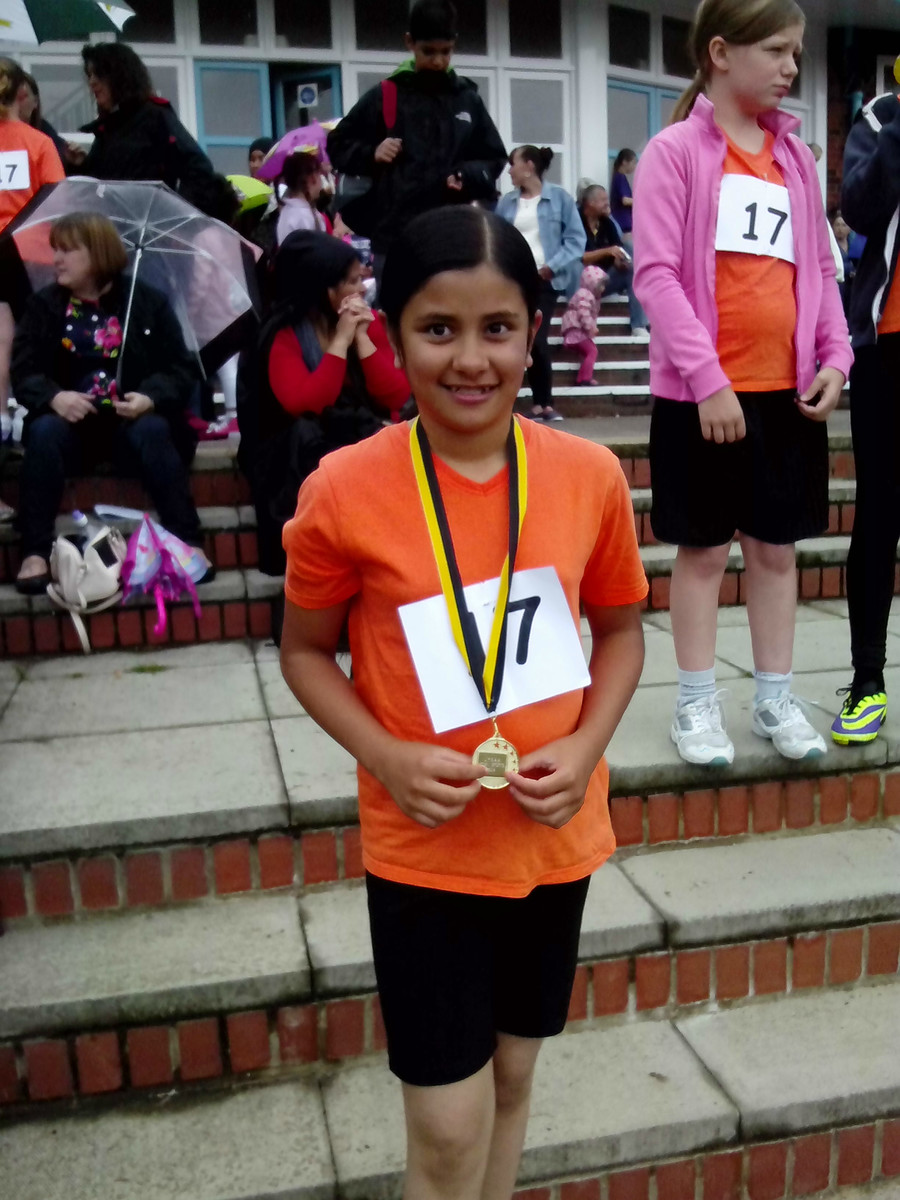 Robert Bakewell v St. Mary's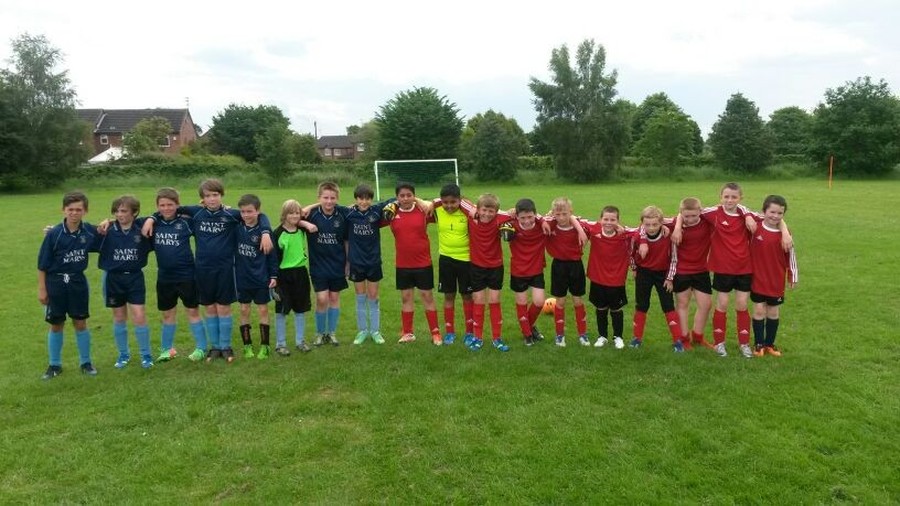 Friday June 13th
We have a theatre company visiting today with a science show based around light. Thank you to our wonderful Parents' and Friends' Association, who made a good contribution to the funding for this play, keeping parents' costs down.
Tuesday June 10th
We have meetings for parents of children coming into Reception classes today and tomorrow at 4 pm.
Wednesday May 8th
SATS week for Y6 next week ... good luck everyone.
Monday April 28th
We have had a really good first day of term, with children working hard and also doing well at lunch and break times. Welcome to the new children who joined us today in Reception, Year One, Year Two and Year Five. Some governors and parents came in over the holidays and have brightened up some of our outdoor areas - thanks to these governors and parents for their hard work.
Friday April 11th
We break up for the Easter holidays today. We hope you all have a good holiday. Children return to school on Monday April 28th at 8.45 am.
Friday March 18th
We had the most fantastic time today, with children doing a range of activities for Sport Relief. Lots of children joined Mr Clark in running around the school field before school, at break time and at lunch time. Year Six organised some really good activities for children at lunch time, and I was surprised with a Flash Mob dance from the children at the end of the day. We raised over £200 for Sport Relief. Thank you everyone.  
Saturday 1st February
The Bakewell Roboteers (Y5/6 Lego Team) had a fantastic day out at Loughborough University at the National Finals.  There were 30 teams of 9-16 year olds with robots of many shapes and sizes and projects about different natural disasters - the theme for this challlenge. The team doubled their robot score from the Regional Finals and performed well in all areas of the competition. The robot and four of the children also starred on East Midlands Today!
Tuesday January 28th
Final preparations are underway for the Lego National Finals at Loughborough University on Saturday - our Y5/6 team, The Bakewell Roboteers, will be competing.  Good luck to the team - it will be a brilliant day!
Thursday January 9th 2014
Welcome back everyone. From next week, we are changing our school day slightly. Assembly will be at the end of the day, so children will be coming out from the hall just before 3.15. Children will need to go back to their classrooms before being dismissed, so that we can ensure all children are safe. The start and end times of the school day remain the same - 8.45 a.m. start and 3.15 p.m. finish.
Wednesday 18th December
The Y5/6  Lego Team had a fantastic day out at the Regional Finals and have earned themselves a place in the National Finals in February by winning a Champions Award. Click here to see photos from the day.
Wednesday 11th December
Thank you to the children in key stage two for their lovely concert last night. Our second KS2 concert is tonight at 7pm. Children need to be in school at 6.30 please. Thank you.
188 children had Christmas dinner today!
Friday 6th December
Christmas discos tonight: KS1 5.30 - 6.30.
                                              KS2 6.45 - 7.45
Monday 25th November
Today, we had a performance of 'Jack and the Beanstalk', paid for by the PFA. Thank you the PFA for funding this - we all really enjoyed the production.
Friday 22nd November is Class 2G's assembly. All parents welcome 9 o'clock.
October 24th 2013
Today we had a surprise theatrical performance of Pinocchio! The children really enjoyed this, and I expect they were all talking about it when they went home.
October 18th 2013
Thank you for the excellent response to parents' evenings this week. Nearly every parent was there. Our year six pupils again did an excellent job of running the evening.
September 11th 2013
There is a maths workshop for parents in school today at 4 p. m.  Mrs Fletcher will show parents how we calculate at school and how parents can help children at home.  If you'd like to come along, the workshop is in the Y2 classroom 4 - 5pm.
August 2013
Welcome to our new staff and children and welcome back to everyone returning after the summer holidays.
July 2013
We have been awarded our fourth Green Flag.  This is a permanent flag and one of very few awarded in the country!  Well done to all of our children and Staff for their Eco work, but especially to Mr. Simmons and the class Eco Reps who have co-ordinated and documented the work.
July 12th 2013
HAPPY SUMMER HOLIDAY EVERYBODY. Good luck to all our leavers and we wish all the very best for you.
Children return to school on Thursday August 29th.
June 26th 2013
 Both Sports Days went really well. Thank you to all the parents who came along and joined us.
June 19th 2013
Sam Rodduck, Paralympian Sprinter is visiting the school today to take part in a PE lesson, work with the children on healthy eating and have dinner with the children.
June 5th 2013
This week is MATHS WEEK. The children are taking part in a range of practical mathematical activities, from drawing out the lengths of different dinosaurs on the playground to exploring wheels and circles on their bikes.
26th April 2013
Robert Bakewell School are the WINNERS of the 3M Make It Move Challenge. We had two teams in the final, and BBJJA team won. This is a very prestigious award. The children won a cash prize each and £1500 of Lego equipment for the school. Well done to all concerned, and thanks to 3M for arranging this lovely technology challenge.
Summer Term
We hope you all had a really good Easter. Children return to school on Monday 8th April.
Comic Relief Day 15th March 2013
Thank you to everybody who donated some money to our Comic Relief collection. We needed to raise as much money as we could to secure the release of Orinoco our beloved Womble! We raised over £250.00.
21st February
The Ofsted report is now out and parents should have had a paper copy sent home. Robert Bakewell is now officially a GOOD school in all areas!
30th and 31st January
The school has its OFSTED inspection on 30th and 31st January. You will have had a letter and leaflet about this, telling you how to contact the inspection team.
26th January 2013
Wow! An amazing day at the First Lego League National Final at Loughborough University.  Every single member of the team was brilliant and the Bakewell Roboteers (our Y5/6 team) secured 2nd place in the Robot Challenge and won the Judges' Award for a good performance in all areas and a new trophy for the cabinet!  
Thank you to all of the parents, brothers, sisters etc who came to support the team and share the excitement!
A more detailed report and photos will be here as soon as I have them.  If you have any photos of the day that you would like to share, please email them to me and I will put them onto the website.
25th January 11.30 - Stanley Head update:
CHILDREN WILL BE BACK IN SCHOOL AT ABOUT 2.30 PM.
Snow is forecast in the Stanley Head area, but not until this evening, so everything should be fine. Please feel free to come and welcome your children home. Children can go home with you at 2.30 (with brothers and sisters), but Mr Simmons has requested that children taking part in the LEGO final tomorrow stay for a practice session after school.
24th January 9.30 - Stanley Head update:
All well again. Children are having a lovely time. There is a bit of snow at the centre but mainly flurries.
Last night, children had sausages, shepherd's pie or vegetarian option (I forgot to ask what this was.) Miss Hayden is amused by some of the children using the bread which comes with the meal to make sandwiches – ok with sausages, but one or two made shepherd's pie sandwiches!
The children had hot chocolate around the camp fire last night. One or two children whispering a bit late, so Miss Hayden sat outside their dormitory until they were asleep – not too late.
Children are back at 2.30 tomorrow. Please feel free to come and pick them up at this time.
23rd January 5.30 p.m. Stanley Head update:
The River Study group had a great time today. The other group couldn't do all the caving because of the snow, but had a really good time bouldering. Most children are having sausages for tea tonight. After that, there will be a  camp fire.
23rd January 8.30 a.m. - Stanley Head update:
All children asleep by 9.20 last night – this must be a record!
 Some children are going bouldering and caving today, others are doing a river study. Yesterday, all children had a go at the High Ropes Course and the Climbing Wall. One child got all the way round the High Ropes Course – this is very unusual for a year six child.
There was a choice of Lasagne / Cheese Pie /Turkey last night for dinner. Children are eating well.
22nd January 2013 2pm - Stanley Head update:
The children slept quite well last night, although one dormitory of boys was up at 6.15 this morning! Today, the children have been doing the High Ropes Course and the Climbing Wall. The High Ropes Course was ice free but cold and they all enjoyed it. One child got all the way round - very unusual for a year six pupil. The children had scrambled eggs, toast and cereal for breakfast.
21st January 2013
Latest report from Y6 Residential visit: The children did Archery and Team Challenge this afternoon. Everybody is having a good time. They are unpacked and settled into dormitories well. Evening activities tonight - probably orienteering around the centre grounds with torches.
Y6 children arrived safely at Stanley Head Outdoor Education Centre at about 11.15. There were no problems on the roads and they are now all settling in, making beds in dormitories and looking forward to their problem solving activities this afternoon. I shall try to update the website at least once every day with news, although we were having problems accessing the site this morning.
14th January 2013
SNOW! We shall be open if the snow stays as it is. I very rarely close the school for snow, as we are on a flat site and many children walk into school. If the snow gets very deep, we may have to close, but it's highly unlikely. If snow is deep, please check the school website: I will put closure on it by 8 a.m. However, we expect to be open every day.
January 2013
Happy New Year
Wednesday 19th December
The Y5/6 Lego team took part in the First Lego League Regional Final at Loughborough University.  They came second in the Robot Challenge, losing in the Final to Quigley's Angels (a secondary school from Uttoxter).  They gave fantastic performances in the Research Project presentation, Technical Presentation and Teamwork talks too and were crowned as one of the two Overall Champions, Mountfields Lodge taking the other trophy.  They are now preparing for the National Finals in January 2013.  Click here to see photos of the day.
Monday 17th December
Thank you to everyone who contributed to the lovely Christmas productions last week. We all really enjoyed them.
The Reception Nativity is this Friday, 21st December, at 9.30 a.m. Reception parents are welcome to bring their children at 8.45 and wait at school for the Nativity if they so wish.
Today is KS2 Christmas party day. Tomorrow is KS1 and Reception party day.
Achievement Assembly is on Thursday at 9.05 am. Parents of children receiving awards will already have had a letter about this. Parents of children in Steel Pans can also come along, as the children will be playing their Steel Pans as the children come into assembly.
Thursday 18th October
A Y3 and a Y4 team spent a brilliant afternoon at Loughborough Rugby Club playing in a TAG Rugby Festival organised by Leicester Tigers.  Lots of tries were scored by both teams and the photo taken at the end of the afternoon shows how much they all enjoyed the event.
Wednesday 10th October
A good website for practice SATs test papers can be found on http://www.sats-papers.co.uk
Monday 17th September
Academy Information - for the latest letters and further details click here.
Wednesday 12 September
Club letters are out this week. Please look at bulletins in the virtual office area for details.
We had a whole school Wakey-Shakey!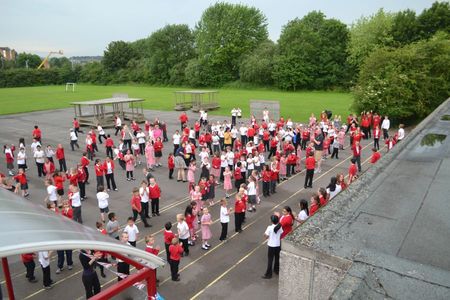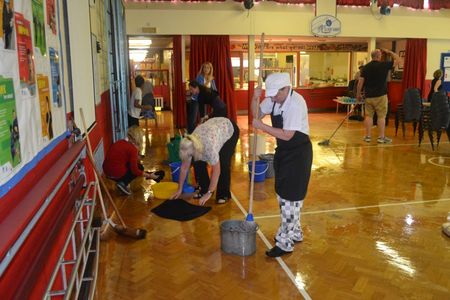 A few pictures from the clean up operation during and after the recent flood.
June 19th
Parent Link Group 2.15 today.
May 25th
School discos tonight! Foundation Stage and Key Stage One 5.45 - 6.45. Key Stage Two 7.00 - 8.00
May 15th
Good luck to our year six children with their SAT tests this week. They are working very hard.
May 8th
Primary Schools' Tag Rugby Tournament - Burleigh.  Congratulations to the Tag rugby team.  They played some fantastic rugby, scoring 29 tries during their four pool matches and the 3rd/4th place playoff.  Having won one, lost one and drawn two, they secured 3rd place (out of 9) by winning 9-3 in the playoff.  Well done to all - every single one of you gave 100% to your rugby and your team.
April 27th
We have a blue tit nesting in our box and she is sitting on a number of eggs.  We have a web cam set up and the images are showing in Reception.  Why not pop in and have a look?
April 19th
Thank you to everyone who made the Class 5/6DF Kenyan Coffee Morning such a success, parent organisers and helpers, those who donated cakes and raffle prizes and those who came to drink and eat with us this morning.  We raised a fantastic £241.20 which will allow us to help the Kenyan elephants so much more than we had hoped to. Click here to see photos of the morning and for news of the fostering process.
March 23rd
 Just a note to say I have put the wrong start date to the Easter term on the newsletter! Children return to school on Monday 16th April.
February 29th
Thank you to all the parents who attended Parent Link group yesterday. We  discussed a range of issues: parking, school times, parent workshops, school dinners, possibilities of before and after school childcare and arrangements for pupils starting school. I found it very useful - thanks.
January 12th 2012
Congratulations to the Lego Team who performed brilliantly today at the Lego Challenge held at Loughborough University.  The beat six other teams on the Robot Challenge table to take the winners' trophy.  Congratulations to Mountfields Lodge who were the Overall Winners and good luck for the National Final.  Click here to see photos of the day.
January 2012
HAPPY NEW YEAR!!
December 13th 2011
The Key Stage Two Christmas Concert is tonight at 7 p.m. Children should arrive at about 6.40 p.m.
The second Key Stage Two concert is tomorrow at 7 p.m., and the Key Stage One concert is on Thursday at 6 p.m.
December 6th 2011
The Choir performed in Carillon Court today raising money for the PDSA and the School Music Fund.  A great time was had by all, including the parents and grandparents who joined them there,  Click here for some photos.
December 2nd 2011
We are having a school disco next Friday, 9th December. Look on the newsletter for more details and tickets. Thanks to the Parents' and Friends' Association for organising this event.
November 28th 2011
Our new tea-towels have arrived. The Parents' and Friends' Association will be selling them in the playground, price £2.50. They're really good quality and would make great Christmas presents.
November 11th 2011
Well done to our school football team. Last week, they WON the Loughborough and District Football Cup. Fantastic effort, boys - well done.
Today we marked Remembrance Day with a minute's silence at 11 a.m.
October 28th 2011
Thank to Y1/2 and Y6 for leading our Diwali assembly today.
Parents' evenings
Please come to the hall and a year six child will take you to your appointment at the correct time. Thanks.
24th September
We are having our Parents' and Friends' Association rummage sale from 10 - 12 today. Thank you to everybody who donated something for the sale, and to those parents who organised the event and came along to help.
The Parents' and Friends' Association Annual General Meeting is at 6pm next Wednesday (28th September). We also have our Macmillan coffee morning on Friday 30th September. Do come along and join us.
15th September
School Council and Eco Group elections tomorrow.
7th September
Children have settled into school well. Please remember the 'meet the teacher' night tonight. Parents of children in Mrs Walker's and Mrs Mawby's classes already have appointments. Parents of other children should come to the hall for a very short talk by Miss Parkinson. Then teachers are available to chat to in class rooms until 4.30.
31st August
We look forward to seeing the children back again tomorrow. We especially welcome our new children in 4+ and other year groups.
15th July 2011
We finish for the summer holidays today.
Last night, year six did an excellent leavers' show for us. We wish them all the very best as they move on from Robert Bakewell School. We are really sad to see them go.
8th July 2011
Year Six have been at their new Secondary Schools for the last three days.
5th July 2011
Y2 had their trip to the farm today.  The rain held off and the children had a glorious day.
It is parents' evening tonight. Please come and have a look at the children's work at any time between 4pm and 6.45 pm.
29th June 2011
Thank you parents for attending our Carousel sports day today. The children did really well and everyone had a go at something. No-one got too wet...
REMEMBER KS1 CHILDREN ARE NOT IN SCHOOL TOMORROW DUE TO INDUSTRIAL ACTION (KS1 means Y1, Y1/2 and Y2 classes).
26th June 2011
What a brilliant summer fair we had on Saturday. We raised over £2600 in a fantastic community event. Thank you so much to everyone who contributed.  Click here to view photos of the day. 
23rd June
Don't forget the summer fayre this Saturday - 1pm - 4 pm.
23rd June
We took several year four, five and six children to town sports, and they did the school proud with their athletics skills and good sportsmanship. Well done to Ratnesh for going through to the County finals.
10th June
This week, children have been on a Victorians Day and a Robin Hood Adventure Day at Beaumanor Hall. They had a great time. Miss Parkinson confiscated the arrows from Robin Hood's bow, though, just in case...
26th May
Well done to the football team who gave an outstanding performance in The Pollard Cup semi-final. Although they lost 0-2 it was to a team who are used to putting 6 or 7 goals past their opposition!
23rd May 
This week is Healthy Schools Week. We had a whole school 'Wakey Shakey' session yesterday. Children will be learning about healthy lifestyles all week.
20th May
The baby birds have flown the nest!

19th May
40 children from Lantern Lane Primary School in East Leake joined us today and took part in Orienteering, Lego and Multi-Sports activities with year five children. This was part of a Community Cohesion project.
There are 9 baby birds growing in one of our nesting boxes. We have live 'nestcam' in the front entrance hall if you would like to come in and see how they are getting on.
We are welcoming over 40 new children to our school next year.  We are really pleased to see that so many local children want to come to Robert Bakewell School.
We raised over £2000 from our sponsored spell.  Well done everyone and thank you all for sponsoring the children.  Money raised will be used to buy reading books.
April 4th 2011
The Y5/6 Tag Rugby team were in action again this time in a tournament held at Burleigh Community College.  The weather was cold and wet, making the rugby more challenging, but the team kept smiling and played some good rugby. Their attitude to the other teams and support for each other was fantastic.  Well done to all of them!!
March 29th 2011
Our 5/6 Tag Rugby team took part in a Tournament with Hathern, Rendell and Cobden at Limehurst.  They played extremely well and finished second in a very enjoyable event.
March 11th 2011
A very successful coffee morning took place to raise funds for the School. 

Jan 22nd 2011
The Lego Team exceeded all expectations with an outstanding performance in the Robot Challenge (4th out of 28), very good performances in the other parts of the Lego Challenge and superb teamwork when they competed in The National Finals (9 - 16 yrs) at Loughborough University.  They were a credit to the School and reaped the rewards for hours of dedication to robot design, programming, project research and working as a team.  The Leicester Mercury and Loughborough Echo printed articles about the team and Mr Simmons was interviewed on Radio Leicester on the morning of the competition.

Jan 2011
We have been awarded our third green flag! Congratulations to the School Eco Reps for outlining the Eco work done by every member of the school and  a big thank you to Mr Simmons and Mr Gibson for their hard work too.
On the Eco theme - two of our Y5 learners won prizes in the Loughborough Echo Competition to write new Eco words for The Twelve Days of Christmas.  Their version was printed in the paper.

Jan 11th 2011
The Y5/6 Lego Team took part in the Regional Final of the First Lego League 2011 Body Forward Challenge.  They competed in a robot challenge, using a Lego robot that they had built and programmed.  Their aim was to successfully complete as many of the set tasks as they could in two and a half minutes.  They also gave a presentation about knee injuries and their prevention, answered technical questions about their robot design and programming, took part in a team challenge that involved building the tallest free standing tower that they could from a small box of K'nex and were assessed throughout the day for their teamwork.  They showed a consistently high level of performance throughout the tasks and were crowned Overall Champions earning themselves a place in the National Final on 22nd Jan 2011 - fantastic achievement and our first visit to a National Final!  Good luck to all of them for that.
July 7th 2010
The Year 5s were invited to Loughborough University to show their Lego skills in 'The Big Bang' Science, Technology, Engineering and Mathematics Exhibition.  Two of them were also invited to take part in the East Midlands K'nex Challenge.  The Lego Team were runners up in the Club Section, winning a large Lego Crane Kit and the K'nex team were 4th, winning a K'nex kit each.  There was a Jo'bulani (World Cup Football) kicking competition - there were several balls as the prizes for those who kicked them the fastest and one of our learners was a skillful winner.  He also won a Lego robotic arm kit in another competition!  Well done to everyone for their fantastic performance.
June 24th 2010
The Year 5s took part in a Singing Workshop with Boothwood, Stonebow and Thorpe Acre.  They learned several new songs during the day and gave a performance for their families at the end of the day. Their rendition of the song that they had been working on at school 'All God's Creatures Got a Place in the Choir' accompanied by percussion instuments was excellent.
April 23rd 2010:
A Y5/6 team took part in the Burleigh TAG Rugby Festival and won the Fair Play Trophy.  The team went from strength to strength as the afternoon went on and put together some excellent rugby leading to some good tries.  They (and their supporters) didn't lose a single fair play point all afternoon due to their good sportmanship and respect for the other players and officials - a record to be extremely proud of.  Well done!
March 19th 2010:
Class 3/4M hosted a Coffee Morning in the Large Hall in aid of Sport Relief and the Open Arms Infants Home, Malawi.  Thank you to everyone who shared coffee and cake with us, donated cakes and raffle prizes and sent money in with their children for these fantastic causes.  The children (and some of the staff) also took part in a Sport Relief run on the School Field in the afternoon cheered on by parents and friends. 
School Council members have decided that £400 will be given to the Orphanage and the rest of the money, at least £272 so far, to Sport Relief.

Dec 2009:
The Choir, Junior Recorder Group and Steel Pan players performed in Carillon Court.  Many thanks to all parents and friends who joined us for the occasion.
A group of ten Y5/6 had a brilliant day at Loughborough University taking part in the Lego Smart Move Challenge.  It was the first time that the Primary Schools had been invited to take part in the Regional finals.  The team was excellent, performed well in all areas of the competition and won the Teamwork Challenge.

Nov 2009:
Children in Need: The children brought in donations and raised £120. 

Sept 2009:
Class 3F held a coffee morning in aid of Macmillan Nurses and raised over £310.  Thank you to everyone who came and to those who sent donations of cakes and biscuits.
June 2009:
A group of year 6 children took part in the Limehurst Family of Schools Annual Tag Rugby Tournament.  Everyone had a brilliant afternoon at Burleigh Community College and showed great skill and enthusiasm.  
We attended the Lego Climate Connections Primary Schools Challenge at Loughborough University and had 'A Grand Day Out'.  We took two teams this year, one from Y5 and one from Y6.  The teams had practiced very hard showing their presentations and robot challenge skills to many of the other pupils at sch ool before the day.  The Y6 team won the Teamwork Challenge Trophy and the Y5 team won the Robot Challenge Trophy, beating St. Botolph's School in an exciting final and the Overall Trophy. 

March 2009:
Our Year 5/6 Tag Rugby team played in the Burleigh Partnership Tournament held at Loughborough Rugby Club and won their league to get through to the semi-finals.  This match and the final will be played at Leicester Tigers' ground (Welford Road) on 21st March at 1 pm.  We wish them good luck.

We held a Coffee Morning on Friday 13th March in aid of Comic Relief, an orphanage in Malawi and a school in Nepal.  Many of our parents, staff and learners helped and others came and bought coffee and cakes.  Altogether £470 was raised.  Thank you to everyone who was involved.

Congratulations to the members of the Y5/6 Rugby team who played so well at Welford Road on 21st March.  They beat Newcroft School in a close fought semi-final, then played in an excellent final losing to Burton on the Wolds.  They collected their silver medals and certificates during half time.  A great day was enjoyed by all who were there.
http://www.leicestertigers.com/news/13082.php